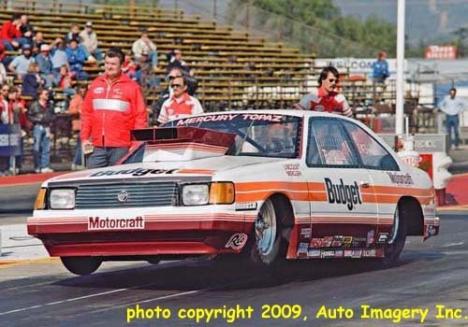 ORIGINALLY BUILT FOR ROY HILL AS PROMOTIONAL CAR FOR MERCURY . THE TOPAZ/TEMPO DIDN'T REALLY TAKE OFF. ( I know,hard to believe!) WE DIDN'T EVEN BUILD ENOUGH OF THEM TO GET PICTURES BEFORE SHIPPING THE PARTS OUT. WE HAVE THE ENTIRE "PRO STOCK KIT"  FRONT END, HOOD, DECK LID, REAR PANEL AND DOORS. THE H/G 633 MUSTANG DASH IS THE ONE WE SHIPPED TO ROY FOR THIS CAR.
IF YOU'RE THINKING ABOUT BUILDING ONE GIVE US A CALL. PRICING WILL BE A LITTLE DIFFERENT DUE TO MOLD PREP. 
*ALL ORDERS WILL HAVE BOXING AND SHIPPING FEES TO BE COLLECTED WHEN ORDER IS COMPLETE AND READY TO SHIP.**        CALL FOR ESTIMATE. 
We will contact you when your order is ready to ship to collect the fee.
Please read our Shipping Info before ordering. Call with any questions you may have